Cindy Clarke, Potter
The trademark Out of the Fire Studio is owned by Jim Willett and Cindy Clarke who reserve all legal rights to its use.
A Brief History: Out of the Fire Studio was established as a pottery studio in Edson Alberta in 1999 by Cindy Clarke. Joined soon after by Jim Willett the pottery relocated to Edmonton Alberta in 2001 where it became a source for pottery for over 45 retailers across western Canada.

Cindy Clarke, Potter
Thousands of people from around the world have purchased and enjoyed handcrafted stoneware pottery from Cindy Clarke through Out of the Fire Studio. In January of 2007, after processing over ten tons of clay a year into pottery and finding the physical toll to be more than they wanted to endure anymore, Cindy and Jim made the decision to close down their wholesale pottery studio and open a studio and retail gallery near the Gallery Walk area of Jasper Avenue and 124th Street, where they could sell their products and promote the work of many of their friends. After an encouraging beginning they poured their energies into promoting their fine stoneware pottery as well as selected hand crafted decorative craft and art items including paintings by Alberta artists. After a year and a half of trying their hardest they found they were not receiving the public, business, and media support necessary to continue this type of operation at this location and on June 30th of 2008 they closed their studio and gallery.Cindy and Jim began a new clay adventure by taking clay to schools as The Clay Teacher ® and in three years built a loyal following among educators to the point they were teaching handbuilding projects to over 8000 students a school year. In December of 2013 the couple "retired" and relocated in Coutts Alberta where they continue to be involved with pottery making and classes at a studio in the art room of the historic Coutts Village School and are working on new video elements to be published on their YouTube® channel The Clay Teacher. Pottery by Cindy Clarke may be purchased exclusively by commision through www.outofthefirestudio.com .
Cindy Clarke and Jim Willett
Cindy is "The Clay Teacher" and she as "Mrs. Clay" and Jim as "Mr.Clay" have led thousands of school children through clay hand building workshops. Visit our YouTube® channel The Clay Teacher for free clay projects on video!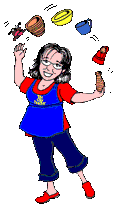 The Clay Teacher
Please enjoy your visit to our site. If you have any questions we will always be happy to try and answer them